Watch Our Story Heise Advisory Group

Get Started With Our

Vision

What do you want your retirement to look like? We help you define what's most important.
Assessment

We examine your current financial situation and determine your retirement income needs.
Strategy

We prepare a tailor-made financial strategy to help you pursue your unique retirement goals.
Action

We help you implement every phase of your financial strategy and keep you informed throughout the process.
Ongoing Relationship

We meet with you regularly to discuss how well your strategy is working — and whether any changes are needed.
November 10

Navigating Retirement In Any Economy
6:00 pm | Live Webinar
In this webinar you will sail deeper into:
• How to Solve Your Income Gap – Exploring protected, market-based and hybrid strategies.
• Tax Efficient Withdrawal Strategies – Understanding further why this is important for your retirement.
• Understanding C.A.N. and Risk – Capacity, Attitude, and Need; what risk means to you.
• Tax Planning: The Four Buckets – Taxable, tax-deferred, tax-free income, and estate tax-free.
• Calculating Your Retirement Income Needs – What are your needs, where is your income coming from,
what are your assets?
Registration Coming Soon!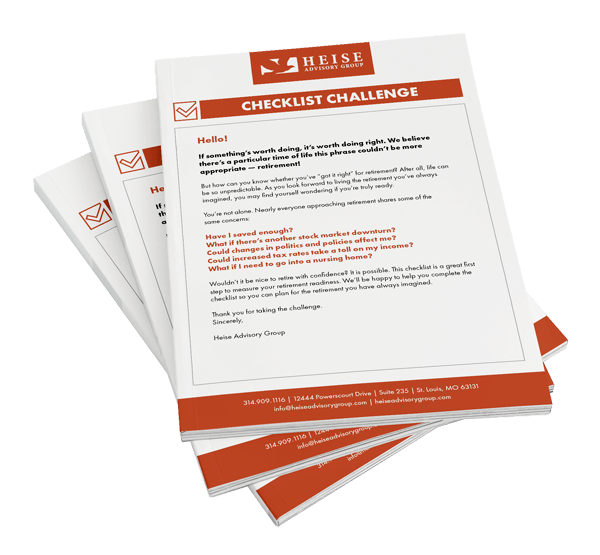 TAKE THE CHALLENGE
How prepared are you for retirement?
The Checklist Challenge will tell us.
When it comes to your retirement, you don't want to leave anything to chance. We don't want you to, either.
Fill out this 34-point Checklist Challenge, which will measure your retirement readiness and help us understand how we can best serve your needs as you prepare to live the future you always envisioned. Together we will examine:
Whether you're taking an appropriate level of risk

How your assets and liabilities stack up

What gaps you may have in your current plan
Together let's rise to the challenge — starting today!
DOWNLOAD THE GUIDE
Will the Election Rattle Your Retirement?
This complimentary guide shares the key trends to watch out for to help ensure your finances are ready for election day and beyond!
What you'll learn:
How presidential elections have impacted the stock market in the past

The toll a candidates' expensive campaign promises could have on your pocketbook

Ways to address the fear of the unknown