Watch Our Story Heise Advisory Group

Living Our Vision. Supporting Your Future.
At Heise Advisory Group, we empower individuals to retire with confidence through purposeful planning, making a difference in every life we touch and enabling families to fulfill their dreams.
Get Started With Our

Vision

What do you want your retirement to look like? We help you define what's most important.
Assessment

We examine your current financial situation and determine your retirement income needs.
Strategy

We prepare a tailor-made financial strategy to help you pursue your unique retirement goals.
Action

We help you implement every phase of your financial strategy and keep you informed throughout the process.
Ongoing Relationship

We meet with you regularly to discuss how well your strategy is working — and whether any changes are needed.
Join us for our event!
Retirement Elevated – Planning for Retirement
Ken Heise and Steve Mahler, reveal how St. Louis area residents are building a thriving retirement plan in order to help maximize the impact of their retirement strategy.
We will cover three essentials during this workshop: Income planning, investment planning and tax planning.
When you attend you will receive a comprehensive retirement planning workbook to use as a resource.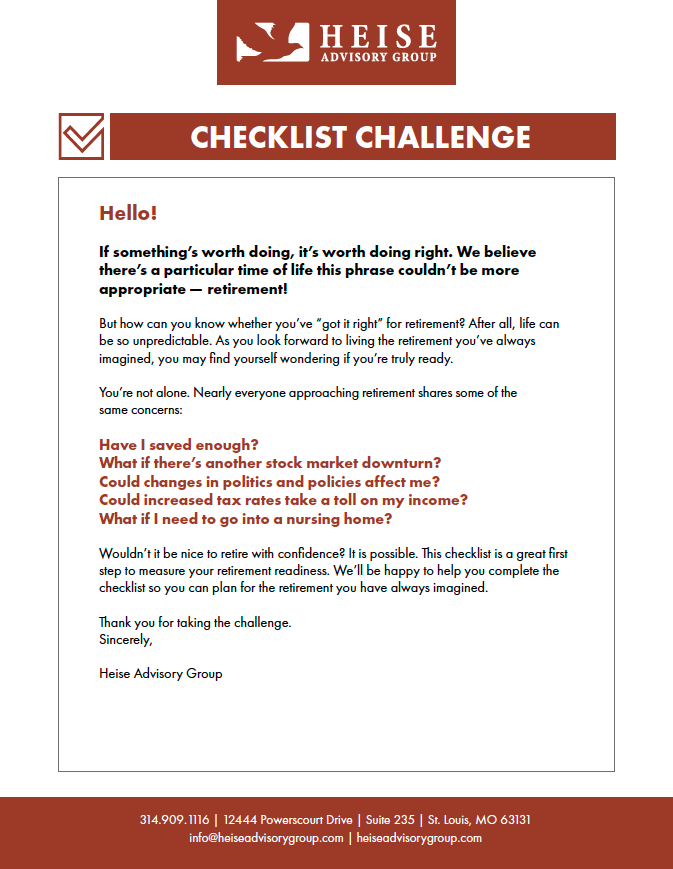 INSTANT DOWNLOAD
Take the Checklist Challenge!
How prepared are you for retirement?
This 34-point checklist will help measure your retirement readiness, guiding you through some of the most pressing concerns we hear from clients. You'll examine:
Whether you're taking on an appropriate level of risk

How your assets and liabilities stack up

What gaps you may have in your current plan