Families for Families
Giving back to the community is a small but significant way of showing our appreciation for helping us achieve our small business dream. Two of the most prominent charities we support are Make-A-Wish and Angels' Arms.
To learn more about these organizations or how you can help us make a bigger impact on the lives of those who need it most, please give us a call today at 314.909.1116.
Project Backpack
July 9th - August 27th
Started in October 1999, Project Backpack was created solely with the mission to help children in the St. Louis area. The children served are the silent victims of domestic violence. Our organization provides emergency services by furnishing area police departments, social service agencies, domestic violence shelters and Department of Family Services workers with backpacks for children who are removed from their homes usually with nothing but the clothes on their backs.
The backpacks are age and gender appropriate and make the transition from crises situations to foster homes more tolerable. Often this is all the children will have with them for quite some time. These backpacks are filled with necessary items such as sleep tees; socks; a variety of toiletries; school supplies such as paper, crayons and pencils; games; books; and stuffed toys.
Stuffed Animals—for ages 2-4
NO SEWN IN EYES, OR BEADS IN BODY—PLEASE
Stuffed animals—for ages 5-teen
Books—appropriate for teens
Activity books for teens
Small spiral notebooks
Larger size backpacks—for teens
Key rings—for all ages
Anti-bacterial handwash—travel size
Tee shirts—all sizes, including teens
Socks of all sizes—male/female
Water bottles
Pencil pouches
Pens—blue or black
Jumbo crayons
Highlighters—any color
Individual pencil sharpeners
Erasers—pencil toppers and others
Tub books for toddlers
Toys—for all ages, male/female
Books—for ages other than teens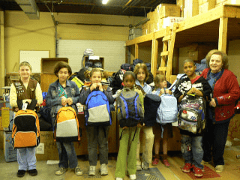 Ready to Take The Next Step?
For more information about any of the services or products listed, choose a time to come into the office and speak with one of our advisors, or register to attend one of our upcoming events.