What We Offer
At Heise Advisory Group, we believe everyone should be able to live the retirement they've always wanted. Our team of professionals can help you create a well-thought-out strategy, using a variety of investments and insurance products and services, to help you address your financial needs and concerns.
The Heise Advisory Group Process

Planning for retirement can be less frightening when you do it with an experienced team. Our advisors will help you build a financial strategy based on your goals.
Vision

What do you want your retirement to look like? We help you define what's most important.
Assessment

We examine your current financial situation and determine your retirement income needs.
Strategy

We prepare a tailor-made financial strategy to help you pursue your unique retirement goals.
Action

We help you implement every phase of your financial strategy and keep you informed throughout the process.
Ongoing Relationship

We meet with you regularly to discuss how well your strategy is working — and whether any changes are needed.
We offer services in these three areas:
Grow
Prepare for retirement by putting your hard-earned assets to work.
How?
Retirement Income Strategies
Wealth Management
Annuities
Investments
IRA/401(k) Rollovers
Preserve
Protect the assets that can help you live the retirement you've always imagined.
How?
Asset Protection Strategies
Life Insurance
Tax-Efficient Strategies
Long-Term Care Strategies
Give
Provide for the people and causes you care about the most.
How?
IRA Legacy Planning
We can also refer you to professionals who provide the following services:
Trusts
Probate
Charitable Giving
Estate Planning
Tax Planning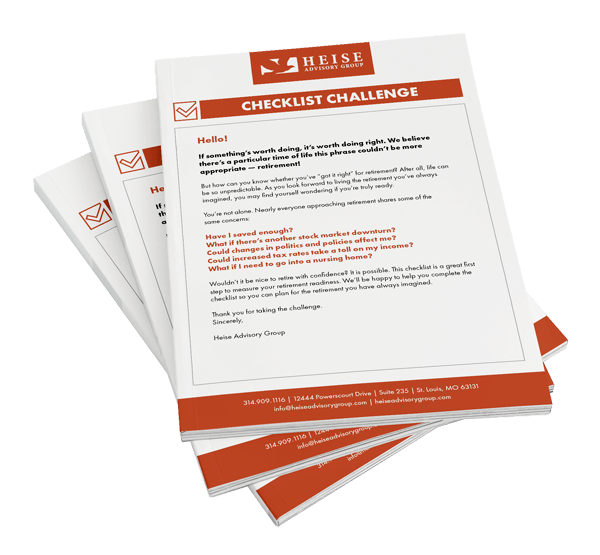 TAKE THE CHALLENGE
How prepared are you for retirement?
The Checklist Challenge will tell us.
When it comes to your retirement, you don't want to leave anything to chance. We don't want you to, either.
Fill out this 34-point Checklist Challenge, which will measure your retirement readiness and help us understand how we can best serve your needs as you prepare to live the future you always envisioned. Together we will examine:
Whether you're taking an appropriate level of risk

How your assets and liabilities stack up

What gaps you may have in your current plan
Together let's rise to the challenge — starting today!
Ready to Take The Next Step?
For more information about any of the services or products listed, choose a time to come into the office and speak with one of our advisors, or register to attend one of our upcoming events.