Attend a Webinar
Join us for one of our upcoming Webinars. We will be discussing important market trends, actions to take regarding your portfolio, and provide updates on current issues and how they could affect your retirement.
Check back soon for upcoming event dates.
Starting December 8

Don't Worry, Retire Happy
Live Webinar
We have exciting news!
We reached out to the author, speaker, and economist, Tom Hegna and asked him to do an online webinar discussing his "Don't Worry, Retire Happy" presentation for our clients and our community!
WHAT IS YOUR PLAN? – Get on track and develop a plan.
MAXIMIZING SOCIAL SECURITY BENEFITS – It might just be your largest Retirement Asset.
CONSIDER A HYBIRD RETIREMENT – Increased earnings, savings and social security.
PROTECT YOUR SAVINGS FROM INFLATION – Learn how to have increasing income.
SECURE MORE GUARANTEED LIFETIME INCOME – Don't have a "just incase" retirement.
HAVING A PLAN FOR LONG TERM CARE – Exploring the 3 phases of retirement: go-go years, slow-go
years, no-go years.
USING YOUR HOME EQUITY WISELY – How to make the most from your assets and preserve your wealth.
Tom Hegna is not affiliated with Heise Advisory Group or AEWM.
Registration Coming Soon!
Fill out the form below to receive more information about upcoming webinars!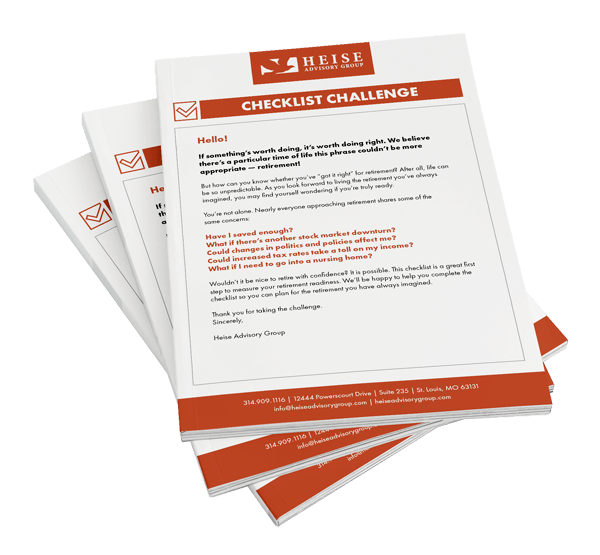 TAKE THE CHALLENGE
How prepared are you for retirement?
The Checklist Challenge will tell us.
When it comes to your retirement, you don't want to leave anything to chance. We don't want you to, either.
Fill out this 34-point Checklist Challenge, which will measure your retirement readiness and help us understand how we can best serve your needs as you prepare to live the future you always envisioned. Together we will examine:
Whether you're taking an appropriate level of risk

How your assets and liabilities stack up

What gaps you may have in your current plan
Together let's rise to the challenge — starting today!
Rather meet One-on-one?
Schedule a meeting with one of our advisors.